ONLINE MARKETING PRODUCTS & SERVICES FOR CHURCHES, NON-PROFITS, & LOCAL BUSINESSES
We help churches, non-profits and local businesses reach and engage more people and grow their digital footprint through our suite of online marketing products and services.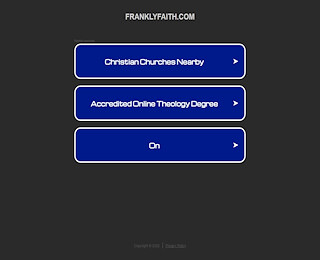 If you have a faith-based company that needs church marketing ideas, 'Frankly Faith' is here to help. We provide marketing assistance to worship houses and nonprofit organizations, religious online publishers, and faith serving organizations. Every sector we serve at 'Frankly Faith' comes with a corporate identity package. Our corporate identity package is the first step in developing clever church marketing ideas for your business. Your package will include a custom logo developed by our team of graphic designers, business card design, letterhead design and envelope design, all for the one-time price of $549. 'Frankly Faith' will revise any design until you are happy with it. Then you will be given full copyright ownership of each design.
We use an SEO tool called 'MarketGoo' to give your business optimal website traffic and higher search rankings. For only $30 a month 'MarketGoo' will scan your company's website and create the ideal SEO plan to increase business. You will be guided step by step on how to improve your website's SEO using 'MarketGoo.' 'MarketGoo' will let you track up to 20 keyword rankings and help you optimize those keywords on the website. You can also spy on business competitors using 'MarketGoo,' up to four to be exact and those competing businesses will never know.
'Frankly Faith' also offers an onsite and offsite SEO network to improve your website's keyword rankings. This SEO plug-in will help you seem like an authority on your services with the right content written. Ranking signals will determine the value and relevancy of your website. You can choose an SEO network with 5 or 10 keywords. Articles are written with every keyword, and the article page will be optimized. You can start seeing the results of the SEO campaign in as little as thirty days. You may not see results until 60 to 120 days have passed since the SEO campaign began. But do not worry, that is when most of the customers see their results. The monthly price for this service will be $375 or $670. You can add ten extra keywords for $580 per month.
We have a network of over 200 online publishers who are taking advantage of our direct sales and programmatic advertising approach to market their companies. We will help you promote your website on the best regional and national brands in the business. For a Search ad campaign, Google Adwords will be customized to show customer reviews, the physical address of your company, your business phone number and more information about your company. In a Social ad campaign, we will place your ads on the Facebook news feed, a great way to advertise your business on mobile devices. In a Display ad campaign, banner ads will be placed around the internet to target potential customers' browsing habits.
These are just some of the church marketing services available to you at 'Frankly Faith.' For more information on all services, call 678-685-9605 or fill out the 'Frankly Faith' online contact form.
Frankly Faith
6788207114
2110 Powers Ferry Rd. Suite 470, Atlanta, GA 30339
View Larger Map
We welcome your comments!