ONLINE MARKETING PRODUCTS & SERVICES FOR CHURCHES, NON-PROFITS, & LOCAL BUSINESSES
We help churches, non-profits and local businesses reach and engage more people and grow their digital footprint through our suite of online marketing products and services.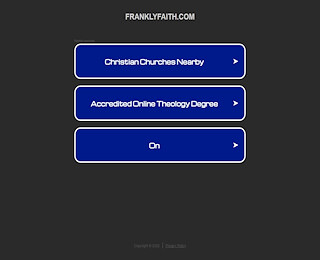 Maybe it's hard to think of them this way, but the members in your congregation are consumers. They're consuming your message and services every week when they come to church and they're also going out and consuming goods, materials, and services from other companies.
While these other companies are secular and not all of their marketing and advertising practices are directly relevant to your mission as a church. However, even we at Frankly Faith can appreciate that there are some things that we can learn from major retail giants and chain department stores. Here are some of the things that you can do to model their strategies in your church advertising:
Be a Mascot for a Day
Springtime means lots of things: April showers or the Easter holiday, for example. However, to Americans all over the country, including your congregants, it means tax time. Tax time is the best time for someone to go out on the sidewalk, dressed as Uncle Sam, to advertise tax services at budget prices.
If you have a special event coming up, don't be afraid to dress up to promote it or have a volunteer from your congregation. Whether people think it's humorous, clever, or embarrassing is up to them. What it will be for certain is memorable, and in church advertising, being memorable is perhaps the most important thing of all.
Conduct A/B Testing
Have you ever heard of A/B testing? This is a method employed by professional marketers and advertisers all over the world. It involves dispensing two messages at once to know which one is the most effective. You can then employ the most effective tried and true method in your church advertising.
You can use this on your website by having two different messages alternating to see which gets the most clicks. You can also do A/B testing with people in-person. If you're handing out flyers, hand out two versions with the same information presented differently to see which reaches the most people or has the most conversions.
Conduct Giveaways
All over the world, companies are giving discounts to customers for "checking in" at their location on social media. At the bottom of receipts when you leave your favorite store or a restaurant, there are invitations for surveys that you can take to enter a giveaway.
It might seem difficult, but you can easily use this type of church advertising at your church. Perhaps have giveaways for congregants and give away prizes to those who bring friends to church next week. The prizes don't have to be big: A T-shirt, a book, a CD with your sermons on it, or just special privileges like picking the hymn or scripture for that day's devotional.
We can appreciate that not all secular methods can be applied to your spiritual ones, our team at Frankly Faith has seen many church's employ these church advertising strategies to great success. If you're looking for a way to get your church's name out there, consider that the source of inspiration might literally be just around the block, and it might not look like what you think.
Frankly Faith
6788207114
2110 Powers Ferry Rd. Suite 470, Atlanta, GA 30339
View Larger Map
We welcome your comments!