ONLINE MARKETING PRODUCTS & SERVICES FOR CHURCHES, NON-PROFITS, & LOCAL BUSINESSES
We help churches, non-profits and local businesses reach and engage more people and grow their digital footprint through our suite of online marketing products and services.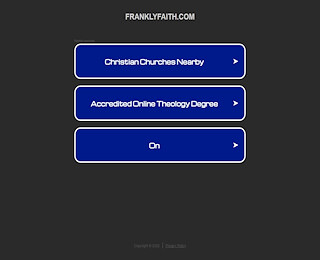 If there's one thing that we at Frankly Faith know about, it's church marketing. And we know that no church marketing strategy is complete without a website. One of the best ways to get a website up and running that is easy to maintain and update regularly is to use a church website builder.
Church website builders are good for lots of things: it will save you time and money, make web design seamless and secure, and can make your web presence more personal to your church. Here are some essential things to consider when choosing the  best church website builder:
Consider the Cost
Some church website builders are free, and some are not. What you're looking for here is the value that each one provides. The best church website builder may not be the most expensive one, just like the worst one you can choose may not be free. Look at all of the features that each tool provides to make the best decision based on what your website needs are.
Look Through the Templates
When you're looking around at some of the website builders, check out the templates that they offer. Most will let new viewers see the templates so you can get an idea of what your site could look like. One of the good things about templates is that usually they're equipped with drag and drop capability so you can just drag the content onto your website and leave it there.
Research Additional Features
Some website builders will even have capabilities built in so that you can have a message forum for members and prospective new members. Some website builders will include blog capabilities, the ability to add your images, videos, and audio files.
Bear in mind that the best church website builder may not have all of these but will have the elements that you want for your website. Consider the reality of your situation and what you're most likely to use before you agree to pay for features you don't need or use.
Get Your Domain Name
While many of the best website builders will have free custom URLs to use, most of these will have extensions, so your church website might be nameofyourchurch.freewebsite.com. If you choose to have your domain, research whether the website builder you are looking at using includes domain mapping so that your website will forward to your domain.
It's highly recommended that you have your domain. The primary benefit of having your domain is that it looks more professional, but it's also good to have one so that it's more easily shared. The members of your congregation are your best marketing tools, and you should have a website they can share without tying their tongues in knots.
Now that you know how important it is to choose the best church website builder, you can make a good choice, and your church website will be live in no time. Boosting your online presence is so vital in this digital age, so finding the best tools for your church marketing strategy is a crucial step in the process.
Frankly Faith
6788207114
2110 Powers Ferry Rd. Suite 470, Atlanta, GA 30339
View Larger Map
We welcome your comments!